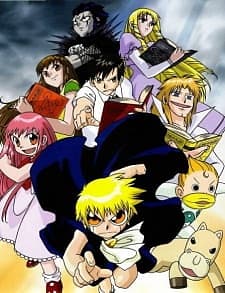 Tipo: Manga/Anime
Capítulos: 323
Volumes: 33
Episódios: 150
Estado (do Anime e do Manga): Acabado
Tempo de Publicação: 18 de Maio de 2001 a 27 de Dezembro de 2007 (Manga); 6 de Abril de 2003 a 26 de Março de 2006 (Anime)
Género: Acção, Aventura, Comédia, Fantasia, Shounen, Sobrenatural
Autor: Makoto Raiku
Konjiki no Gash Bell!!, também conhecido por Zatch Bell, é um manga criado por Makoto Raiku. Foi, rapidamente, adaptado para animes, mais precisamente em 2003 pela Toei Animation. Posteriormente foram criados dois filmes Konjiki no Gash Bell: 101 Banme no Mamono e Konjiki no Gash Bell!: Attack of the Mechavulcan.
História
A cada mil anos, cem demónios habitantes do Mundo dos Demónios, são enviados à Terra para combaterem uns contra os outros a fim de determinar o novo rei do Mundo dos Demónios (Este rei é determinado quando apenas um demónio restar na face da Terra. Sempre que um demónio perde o combate volta ao seu mundo).
Cada demónio têm um livro específico que apenas um e só um humano consegue lê-lo e assim activar os poderes para lutar.
Certo dia, Gash, um demónio, aparece em casa de Kiyomaro Takamine, um rapaz japonês de 14 anos, porém, Gash está amnésico e não se lembra de nada, apenas do seu nome.
Gash e Kiyomaro unem-se com o propósito de descobrir mais sobre Gash e realizar o sonho de Gash – acabar com estas lutas.
Durante esta aventura, Kiyomaro aprende a importância de uma amizade e da coragem.
Personagens
Kiyomaro Takamine
Gash (Demónio)
Megumi Ooume
Tia Sapeco (Demónio)
Sherry Belmont
Brago (Demónio)
Parco Folgore
Kanchomé (Demónio)
Notas (Segundo MAL)
Manga: 8,04
Anime: 7.57